In November, the 35th International Documentary Film Festival in Amsterdam hosted a presentation of a Ukrainian delegation of film curators. We asked the participants and organizers of the initiative about their expectations and the results of the trip.
We were primarily interested in everyone's personal impressions from representing Ukraine at IDFA as well as from the whole range of communications and interactions during the event. We asked the film curators to assess their own work in the field of cultural diplomacy and look at it in the international context.


Today it is more important than ever to tell the world about Ukrainian culture and Ukrainian cinema. About our context, about the important pages of our history, about the origins of what is going on here and now. Because, unfortunately, you can feel a huge gap in this knowledge among the international community. Despite the words of support we heard, people there still do not understand what is going on in Ukraine. As they speak about Ukrainian cinema, foreign film experts still use a very limited list of names. Without knowing that an incredible amount of hidden treasures remains outside those lists, and learning about these treasures could change what they think about the entire Ukrainian cinema and culture.
A delegation of film curators is an important event which should definitely continue, become traditional, and be supported at the government level. I believe that we successfully drew attention to Ukrainian cinema, spoke about the needs of the film industry in this difficult time. We tried to explain the contemporary Ukrainian film and culture context. Explain why broader support for Ukraine is needed and why any collaboration with Russia should stop.


IDFA is the main pipeline transporting energy into the international nonfiction film industry. In recent years, Docudays UA has done a lot to connect Ukrainian documentary filmmaking to this powerful system. Even Russia's full-scale invasion of Ukraine could not neutralise this work: from the first days of the war, the international community has openly and actively supported Ukrainian documentary filmmakers.
However, even such seemingly progressive festival as IDFA, which is so aware of the context, proved to be unprepared for new ethical challenges in programming: one of the competitions was, in the end, won by a controversial film about Ukraine. This is, of course, not the first and, unfortunately, not the last time we see such a blunder. On the other hand, IDFA became the first festival to invite a delegation of Ukrainian film curators and festival programmers to establish a dialogue with their international colleagues.
I believe that it is a decent gesture of professional solidarity and I am, of course, very grateful for this opportunity. But when I attend events of this kind, I realise even more acutely how important it is for us to develop our cultural front. The most our cultural allies are prepared to do is supply us with "weapons." But nobody will come to aid us on the battlefield. We have to do everything ourselves.


This was my fourth trip to the IDFA. For the first time in all these years, so many films (six) whose country of production is Ukraine were represented in various festival programmes. The delegation of curators was another important event which fully focused on us. This is definitely a sign that Ukraine has been seen. At the same time, representation of the Ukrainian topic at IDFA has not worked out yet, I think. I will explain why.
Despite the high number of films with Ukrainian funding, none of them participated in festival competitions. This is unfortunate because those sections are the focus of attention. I would not look for intentional betrayal here: very few films in general make it to the competition.
Plus only a few of the films represented at the film event were made by people living in Ukraine (Ihor Invanko, Dmytro Sukholytkyi-Sobchuk, Mila Teshayeva).
The logic of IDFA programmers is clear: they select the names and topics, and they may not notice where the authors are from. Due to this, many voices which have no "authority" remain unheard. As a result, we have a film about teenage Ukrainian refugees made by a Russian director of Belarusian origin, Ruslan Fedotov, who had already won awards at IDFA; two films by Serhiy Loznytsia in the programme, etc.
This insensitivity is, of course, problematic and will only be solved by long-term work in the field of cultural diplomacy. I hope that this time we managed to communicate the Ukrainian position to the festival team, at least in part. However, we will only see the effects of this next time.
We as Ukrainians in the film industry must be present and visible at events such as IDFA: with our voices, speeches, and manifests. However, if you have no resource, sometimes it's important to just be physically present, be a human being with lived experience which is harder to deny.
I felt that my colleagues and I are all busy, we overwork ourselves, so we spend too little time together talking. Such initiatives are also a good way to feel the power of the community.
As for IDFA, my conclusions are ambiguous. On the one hand, the film festival supported Ukraine, put blue-and-yellow flags on its profile pics, donated some money. But on the other hand, the competition programme this year did not include a single Ukrainian film produced in Ukraine. Instead there were Russian films. For example, a film by the Belarusian-Russian director Ruslan Fedotov which ends with the caption "No war." One of the possible interpretations of this phrase is that there is no war, which is so ironic. These statements that are so abstract and devoid of context are so outrageous to me.
At the same time, Orwa Nyrabia, the artistic director of IDFA, said he was sorry that Ukrainian voices had not been listened to before. But there is a lot of nuance here. We'll see next year how it will be in practice. The indicators will be the number of Ukrainian films in different programmes and competitions, prizes and awards, the lack of Russian films in competition. The topics of the represented films are also very important to me. I don't want Ukraine to always be a kind of victim, a country where there's war and corruption. I would rather have international festival programmers look at us as full-fledged people with agency, same as themselves. I would rather have them select stories made by Ukrainian creators in which we look that way.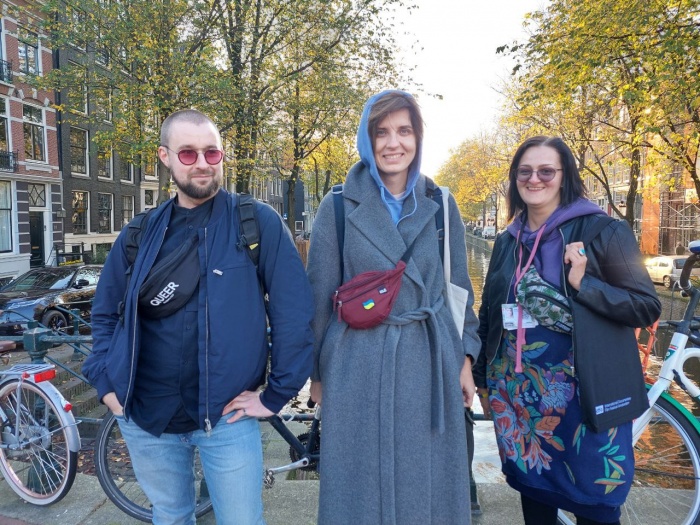 Photo: Olha Birzul


The most important goal of the initiative was to establish new contacts and potential collaborations with our international colleagues. The overwhelming majority of international festivals in Europe seek to support the Ukrainian film community in one way or another: from screening Ukrainian films or industry events to charity events and fundraising for Ukrainian filmmakers. They are our friends and allies. This is important to emphasise.
At the same time, due to the lack of awareness of Ukrainian context and the lack of the historical and political background and experience of war which we have, it is sometimes difficult for our international colleagues to notice important details while forming their film programmes and events dedicated to Ukraine. That is why in March we heard invitations to sit at the same discussion table with Russians, and in April we saw foreign films with Russian narratives in programmes about Ukraine.
The perspective of Ukrainian programmers is unique. So the delegation's goal was to declare: "Here are Ukrainian curators who will be happy to help, participate in the programming, contribute their expertise, let's work together." Because there are no festivals outside politics: the things we all show, the events we organise, and the narratives which we give platform to all affect how long the war is going to last.
As for the results, I think we will soon have a chance to see them in the form of film programmes and events. I know for sure that there are already some collaboration offers which promise to be quite powerful.


Our international colleagues and partners constantly support us. In particular, IDFA gave us both enormous organisational support and financial support. In addition to the delegation of Ukrainian film curators, this year many Ukrainian filmmakers and producers came to participate in the industry programme and work on their upcoming films, looking for opportunities and partners. Yes, I don't agree with everything in this year's IDFA programme. However, this just means that there is a lot of work ahead of us in the field of cultural diplomacy. We have our work cut out for us for years, decades, generations. It is a powerful incentive to keep on going.

Main photo: Semen Mozgovyi
—
The delegation of Ukrainian film curators was organised by Docudays UA with support from Open Society Foundations and in partnership with IDFA.