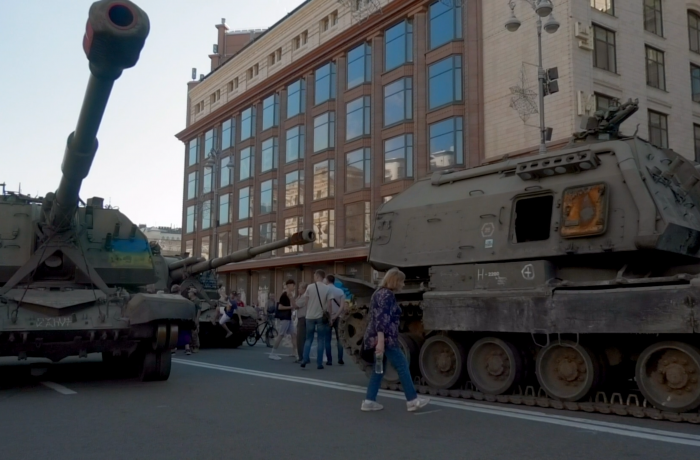 The film's events take place on a single day: August 24, 2022, the day Ukraine celebrates the 31st anniversary of the renewal of independent statehood. The film combines places and people that best capture the country's wartime spirit. The locations are: the relatively safe cities of Kyiv and Lviv; the cities under daily missile fire of Kharkiv and Mykolaiv; a trench at the frontlines near Donetsk; and the beaches of Odesa.
The film presents a day in the life of a beach police patrol, a woman anti-tank missile operator, a water delivery driver, a mortar unit soldier, a rapid assault unit soldier, a 14-year-old pub janitor, an artist and a former member of parliament. Together, these people and places create an engaging mosaic of a day in the life of Ukraine.
CREW:
Director: Volodymyr Tykhyy
Producer: Igor Savychenko, Volodymyr Tykhyy, Andrii Kotliar, Kamil Przełęcki (producers) Kamil Rutkowski, Maciej Mika, Michał Krajewski, Andrzej Hajdaniak (coproducers)
Cinematographer: Anastasia Tykha, Yaroslav Pilunskiy, Illya Yehorov, Serhii Stetsenko, Anna Tykha, Denys Vorontsov, Ihor Ivanko, Andriy Kotliar, Roman Liubyi, Yuri Pupyrin, Dmytro Zahlynskyy, Yaroslav Kendzior
Sound: Andrii Rogachov, Maria Nesterenko, Bob Shevyakov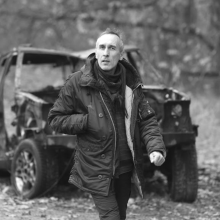 Director
Volodymyr Tykhyy
Volodymyr Tykhyy is an author, director and co-producer of the MUDAKY (FUCKERS. ARABESQUES) project and the UKRAINE, GOODBYE! almanac of short films. He participated in the Berlinale, won a Silver Leopard at the Locarno IFF 2012, a Clermont Ferrand award 2013, and was a nominee for the European Academy Award.
In 2013, he finished his film THE GREEN JACKET, which participated in the competition at the San Sebastian IFF, Warsaw IFF and Tbilisi IFF. BRAMA (THE GATEWAY) (2017) and LETHAL KITTENS (2020) became significant events in Ukrainian cinemas.
Recently the filmmaker has been directing the documentary web-series BABYLON'13 dedicated to the social and cultural revolution in Ukraine starting from 2013.
Selected Filmography
One Day in Ukraine (2022), Lethal Kittens (2020), The Gateway (2017), Brantsi (2016),

Euromaidan. Rough Cut

(2014), Babylon'13 (2013)