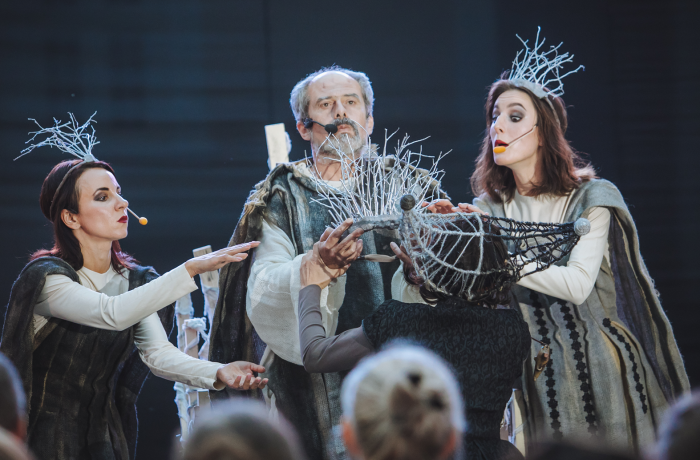 On February 24, 2022, a full-scale Russian invasion of Ukraine began. Millions of Ukrainians were forced to flee their homes and save themselves from the horrors of the war. Many of them took refuge in the small western Ukrainian town of Uzhhorod in Transcarpathia, which borders four EU countries. Despite the occasional air attack sirens, Uzhhorod remains quite a comfortable and peaceful town.
At the same time, with the flow of displaced people, various community initiatives are emerging in the city to help those who have been forced to leave their homes and now find themselves in a different environment. As a rule, the migrants themselves take an active part in such activities. They work in canteens that feed other migrants for free, weave camouflage nets, entertain and educate children, and organise cultural events.


Vyacheslav Yehorov, a local activist who works with his wife to help displaced people and organises the children's leisure time, decides to realise his long-held dream of staging Shakespeare's King Lear. The actors in his theatre will be amateurs – displaced people. Former teachers, artists, engineers, sales assistants, and housewives are adapting to the new conditions and getting used to the new realities. The theatre play helps them find themselves and their destiny in a new world where the war is happening, and the director finds an answer to the eternal question of what love is, and why this world should not perish.

The author of the film`s idea is

Vyacheslav Yehorov

.
CREW:
Director: Dmytro Hreshko
Producer: Polina Herman
Cinematographer: Dmytro Hreshko, Yurii Hotra, Rostyslav Zabolotnyi, Mykhailo Pozheha
Editor: Victor Malyarenko
Sound: Volodymyr Tretiakov, Cinema Sound Production UA; Composer — Anton Dehtiarov
Production and Sales
UP UA Studio
Director
Dmytro Hreshko
Dmytro Hreshko started to study documentary filmmaking in 2018 and created his first documentary that same year. In 2019, he completed a week-long narrative film directing course in Uzhgorod at the Skalka 2019 film school under the guidance of Vyacheslav Yehorov and the CinemaLab two-week course of auteur documentary filmmaking from the Kharkiv School of Visual Arts, taught by Lyubov Durakova and Alisa Kovalenko. In 2020, he graduated from the Indie Lab 2020 documentary film school in Kyiv (curated by Dmytro Tiazhlov and Ella Shtyka). Since 2020, he has actively participated in organising events for the Zakarpattia Film Commission aimed to develop filmmaking in Zakarpattia; the same year, he also co-founded and became a programme coordinator of the Carpathian Mountain International Film Festival (CMIFF) in Uzhgorod. He is a frequent participant of international workshops and pitchings, such as East West Talent Lab at goEast Festival (2021), Works In Progress: Ukraine at the Stockholm International Film Festival (2022), Young Europe project organised by DocEu Foundation (2022), Filmmakers at Risk by Baltic to Black Sea Documentary Network and WATCH DOCS IFF (2022), Visegrad Pitch, presentation of Ukrainian film projects at the East Doc Platform (2023), the Beldocs pitching forum (2023).
Selected Filmography
Between Heaven and the Mountains
(2022),
Save Me, Doctor!
(2020),
Snow Leopard of the Carpathians
(2019),
72 Hours
(2019),
66 scenes of Uzhgorod
(2018)