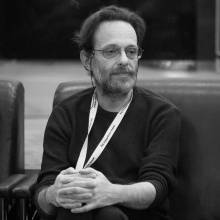 Biography
Producer, member of the European Documentary Network (EDN). Expert of the State Film Agency of Ukraine, Lecturer the Department of Media Communications Kharkiv National University.

He has worked as a freelance journalist, scriptwriter and filmmaker. In the 90s he founded the MaGiKa Film Company – one of the first independent production companies in Ukraine, based in Kharkiv and Kyiv, Ukraine. Since 2003 he is one of the founders Docudays UA, Human Rights International Documentary Film Festival in Kyiv.

Produced several shorts and animation films. Directed more than 20 documentaries, and produced more than 50 documentaries.
SELECTED FILMOGRAPHY:
V. SYLVESTROV
(2020,&nbspproducer, point of contact),
Messiah, or a Town and a Half
(2022,&nbspproducer),
Pryvoz
(2021,&nbspproducer),
National Museum
(2020,&nbspproducer, point of contact),
Our Chaplain
(2020,&nbspproducer, point of contact),
The Elf's Tower
(2020,&nbspproducer, point of contact),
Panorama
(2019,&nbspproducer, point of contact),
Ivan's Land
(2020,&nbspproducer, point of contact)
Companies: