Marko and Atanas are two dudes whose lives would be sweet as strudel but for an annoying little problem with their papers. They need a European passport and they are prepared to do almost anything to get one, including buying a wife. With nothing but their brass necks and 7,000 euros, they set out to find the woman of their dreams — one who will walk them down the aisle and then hang around long enough for the divorce. An odyssey through Vienna's immigrant netherworld, this real-life Green Card is a hilarious and touching insight into what it takes to jump the barriers of Fortress Europe.
Production
Ralph Wieser, Sinisha Juricic, Atanas Georgiev, Mischief Films, Nukleus (Hungary), Tris Film (Macedonia)
Sales:
Autlook Filmsales, Trappelgasse 4/17, 1040 Vienna Austria, +43 720 34 69 34,
[email protected]
, www.autlookfilms.com
Awards
2009 – Regards Neufs Award at Visions du Réel FF; Special Jury Award at ZagrebDox IDFF; 2010 – Special Jury Award and Andriy Mаtrosov Award at Docudays UA; Special Jury Award at Makedox Creative Documentary FF; Hot Docs IDFF; Dok Leipzig IDAF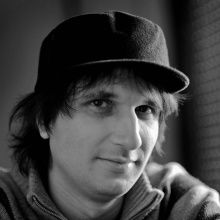 Director
Atanas Georgiev
Atanas Georgiev was born in 1977 in Skopje, Macedonia. In 2000, he graduated from the Faculty of Drama Arts in Skopje, Film & TV Editing Department. During his career he has edited numerous feature films, documentaries, shorts and music videos. Now he works as a director and editor, running his own production company based in Skopje. The film Cash & Marry, which cost him many years of hard work as well as a pulmonary embolism, has won many international awards and recognitions.
Selected Filmography
Sacrificing in the Village of Pokrajcevo (1998), Balkan Blue (1999—2000), Joy of Life (2001), The Noisy Neighbours (2005), Cash and Marry (2008)