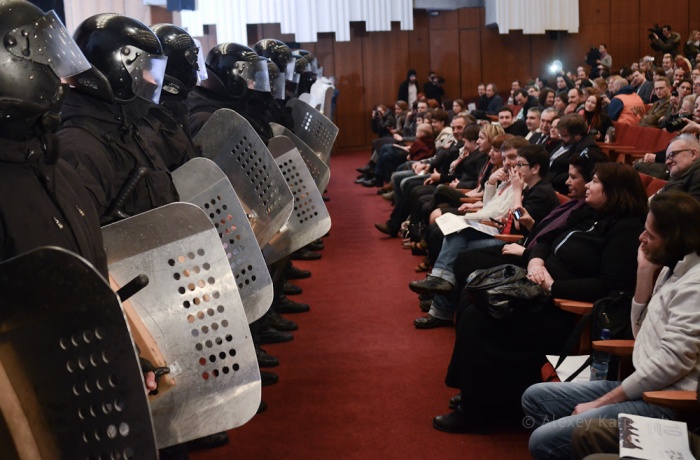 Below you can read about the snow storm in Kiev outside the Cinema House, where the festival ceremony took place last night, March 22nd. But compared to what happened inside that was nothing. The nicely dressed presenters on the stage were suddenly pushed aside by representatives of the authorities, who declared, on behalf of a certain Mr. Pomodorov, that the festival would be cancelled due to its oppositional approach to the same authorities. In walked – see photo – uniformed militia with shields being lined up to protect the speaker from attacks and tomatoes... Some protest shouting were heard from the audience and some negociating took place, I could see from my seat on the second row – the soldiers left and the ceremony could take its beginning.
Clips from the many sections followed plus the opening film, Fortress, a film school film from Prague/FAMU by Klara Takovska and Lukas Kokes telling us, in a satirical tone, about The Transnistrian Moldovian Republic, its leader for more than 20 years, Smirnov is his name, an election process, visits to people who live there, a little bit of everything, and a lot of tv propaganda, which evoked a lot of laughter in the auditorium due to the constant reference to the Russian dominance but nothing more than that, in terms of filmic quality. For me the film sometimes crossed some ethical borders making fun of the naïve people living there.
At the end of the opening ceremony we saw the soldiers/militia people again on the big screen, they were out in the snow, suddenly turning their shields to use them as snow boards. The festival slogan came up: "There is a Choice!".
www.filmkommentaren.dk