Natasha Yurchenko used to live in a small village before developers decided to rebuild the area. Her family resisted the developments, and now they are trapped between the high-rise buildings. She wants to fight for her home, but conflicts surface in the family. How far will she go defending their home? A film portrait of five years in the life of one extraordinary family in today's Ukraine.
Production
Pavla Kubečková, Tomáš Hrubý, Czech Republic, +420604821642,
[email protected]
, Kateřina Šafaříková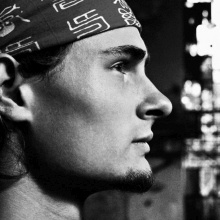 Director
Jiří Stejskal
Jiří Stejskal completed his Bachelor's degree at the Tomáš Báťa University in Zlín. He continued his studies at the Baltic Film and Media School in Tallinn, where he received his Master's degree in Film Direction. Finally he returned to Zlín to finish his Master's degree in Editing & Sound in 2011. His short film Pit-Hole was one of the most highly praised Czech documentaries abroad in 2011. Later he edited several documentaries for Czech television.
Selected Filmography
Pit-Hole (2011)