We keep up the good tradition of our "online film school" and invite you every week to the DOCU/SPACE platform to watch DOCU/CLASS!
For seven years now, the DOCU/CLASS workshop has welcomed everyone who wants to learn about the nuances of filmmaking and dive deep into the multidimensionality of nonfiction cinema.
From now on, this year's festival workshop will be openly accessible on our online platform DOCU/SPACE. We start on September 3 with the way VOD platforms have "rewired" the market and affected the form of film itself. This will be discussed in the recording by participants of the contemporary film process, including representatives of modern online platforms that work with documentary content.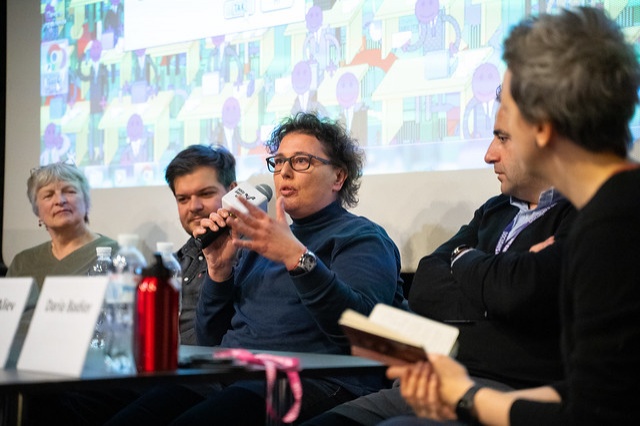 Discussion "Does Netflix Affect the Language of Cinema?"
Then, every Tuesday throughout the autumn, we will share lectures and creative discussions on the role of television, film criticism in our country, poetry and virtuality in documentary filmmaking; and, of course, a separate final block in our workshop will be dedicated to creating films with special "impact campaigns."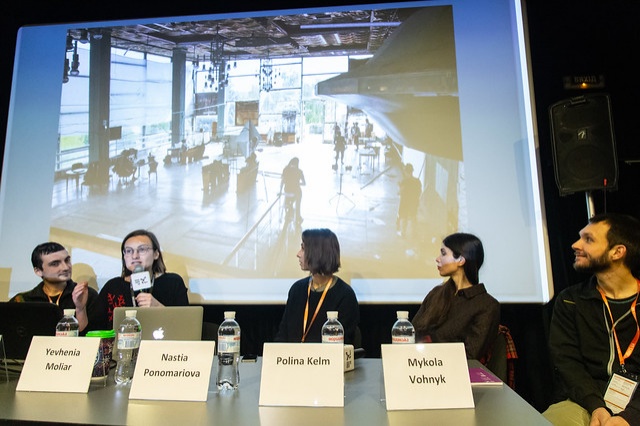 Discussion "Public Spaces: Free Access?"
In particular, together with art critics, artists and researchers from Dovzhenko Center, you will have a chance to find out how the ideal archive of the future, the process of total digitization and the transformation of collective memory are going to look like. All of this is discussed in the recording of the roundtable Cure for Ageing: The New Digital Body for Cultural Heritage.
In addition, you will be able to hear about filmmaking processes. The manipulative power of sound design, its special ethical and aesthetic characteristics in documentary film were discussed during the festival by Anton Dehtiariov, a member of the Ptakh Jung duet and a musician, producer Vladyslav Mitsovskyi, sound editor Serhiy Stepanskyi, and Ivan Kozlenko, the Art Manager and founder of the Silent Night Festival of Silent Cinema and Contemporary Music.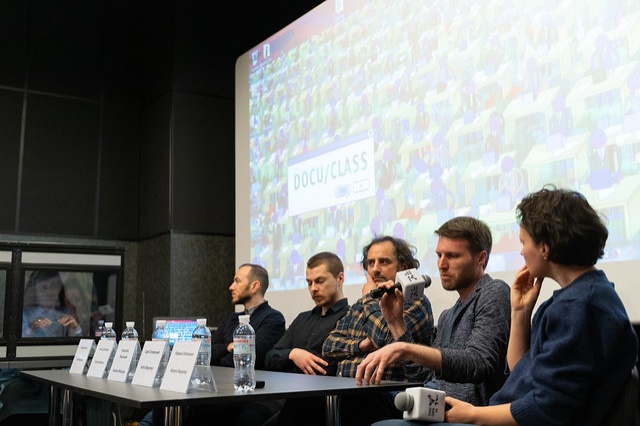 Roundtable "Sound and Music in Documentary Film"
Undoubtedly, another highlight of our workshop this year were meetings between the directors of feature-length Ukrainian films included in the Docudays UA 2019 programme and the team of film critics from the Kyiv Critics' Week festival.
The videos are available with simultaneous interpretation into Ukrainian and in their original languages.
The schedule of workshop publications on DOCU/SPACE:
September 3 – Discussion "Does Netflix Affect the Language of Cinema?"
September 10 – Discussion "Public Spaces: Free Access?"
September 17 – Roundtable "Sound and Music in Documentary Film"
September 24 – Discussion "Cure for Ageing: The New Digital Body for Cultural Heritage"
October 1 – 'Aftermath VR: Euromaidan": The Chronicles of Conflict in Virtual Reality
October 8 – DOCU/UKRAINE: Press Briefing with Directors and Film Critics
October 15 – Case Study: Unrest
October 22 – Case Study: Death By Design
October 29 – Case Study: The impact campaign around Minding the Gap
Photo credit: Docudays UA