He calls himself 'Catman'. Christian lives with his two cats Marmelade and Katjuscha. They are inseparable. As he is yearning to become a father, he decides to fertilise his beloved cat Marmelade by an exquisite tomcat from abroad. All Cats Are Grey in the Dark is a melodrama that portrays an unconventional relationship between animal and human.
CREW:
Director: Lasse Linder
Producer: Edith Flückiger
Cinematographer: Robin Angst
Editor: Michèle Flury
Sound: Nicolas Büttiker, Daniel Bleuer
Production
Studienrichtung Video, Hochschule Luzern – Design & Kunst
Sales:
Awards
2019 – Міжнародний кінофестиваль у Торонто, найкращий короткометражний фільм; Міжнародний кінофестиваль у Гемптонсі, спеціальна нагорода журі за оригінальність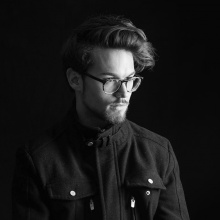 Director
Lasse Linder
Lasse Linder is an independent filmmaker based in Zurich, Switzerland. He briefly studied German and film studies before he began video studies at the Lucerne University of Applied Sciences and Arts in 2016. His first short film Bashkimi United (2018) received awards at several festivals in Switzerland. All Cats Are Grey in the Dark is his diploma film.
Selected Filmography
Psilocybin (2015), Bashkimi United (2018), All Cats Are Grey in the Dark (2019)