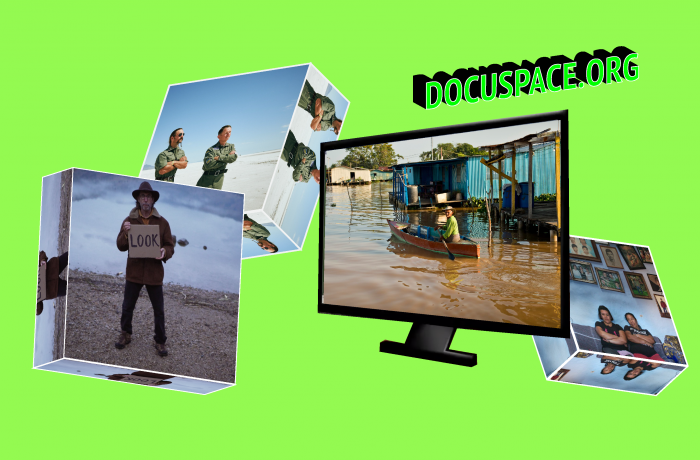 Good films and news are not over on DOCUSPACE! On 8 – 23 April, watch the winners of the 18th Docudays UA competition programmes and festival hits.

So which films can you watch in our online cinema right now??
Winners of the 18th Docudays UA competition programmes:
Ivan's Land, dir. Andrii Lysetskyi (Ukraine): DOCU/UKRAINE competition winner
Salt from Bonneville, dir. Simon Mozgovy (Ukraine, Poland, Georgia): special mention in the DOCU/UKRAINE competition and from the Student Jury
As Far As Possible, реж. Ganna Iaroshevych (Ukraine): Andriy Matrosov Award winner
Taming the Garden, dir. Salome Jashi (Switzerland, Germany, Georgia): DOCU/WORLD competition winner
There will be no more night, dir. Éléonore Weber (France): audience award and special mention in the DOCU/WORLD competition
AN OCEAN, dir. Paul Scheufler (Germany): DOCU/SHORT competition winner
The White Death of the Black Wizard, dir. Rodrigo Ribeiro (Brazil): special mention in the DOCU/SHORT competition
A Colombian Family, dir. Tanja Wol Sørensen (Denmakr): main prize in the RIGHTS NOW! competition
Things We Dare Not Do, dir. Bruno Santamaría Razo (Mexico): special mention in the RIGHTS NOW! competition
Petit Samedi, dir. Paloma Sermon-Daï (Belgium): Student Jury favorite
Unseen, dir. Maia Martiniak (Slovakia): special mention in two nominations, RIGHTS NOW! and the Student Jury
International DOCU/WORLD competition:
Once Upon a Time in Venezuela, dir. Anabel Rodriguez Rios (Venezuela, UK, Brazil, Austria)
Petit Tom, dir. André-Line Beauparlant (Canada)
Children, dir. Ada Ushpiz (Israel)
Full Recovery? programme:

Collective, dir. Alexander Nanau (Romania, Luxembourg)
Citizen Bio, dir. Trish Dolman (USA)
DOCU/BEST programme:
Bloody Nose, Empty Pockets, dir. Bill Ross IV, Turner Ross (USA)
MASTERS programme:
Vivos, dir. Ai Weiwei (Germany, Mexico)
DOCU/ART programme:
The Filmmaker's House, dir. Marc Isaacs (UK)
The Last Archer, dir. Dácil Manrique de Lara Millares (Spain)
Forensickness, dir. Chloé Galibert-Laîné (France, Germany)
Watching the Pain of Others, dir. Chloé Galibert-Laîné (France)
Special screenings of the 18th Docudays UA:
Becoming Animal, dir. Emma Davie, Peter Mettler (Switzerland, UK)
Borys Peter. Silent Pause programme:
Ukrainian Sheriffs, dir. Roman Bondarchuk
Life Span of the Object in Frame, dir. Oleksandr Balahura
My Father Evgeni, dir. Andrei Zagdansky
V. Silvestrov, dir. Serhiy Bukovsky
DOCU/YOUNG programme:
Axel and the True Story of an Imaginary Illness, dir.Dorothée Lorang, David Beautru (France)

As a reminder, until 23 April, DOCUSPACE presents films from the Afterword and Ukrainian Doc: Favorites selections, as well as exhibitions from the DOCU/SYNTHESIS interdisciplinary programme.


You can watch the films with your festival pass or accreditation. Taming the Garden, Ukrainian Sheriffs and the Ukrainian Doc: Favorites selection are only available with tickets. Read more about the operation of the DOCUSPACE online cinema here.