A story about the 82-year-old bachelor Mr. Vig, who has never known love, and Sister Amvrosija, a young Russian nun who, by chance or destiny, becomes part of his life. 50 years ago Jørgen Lauersen Vig bought Hesbjerg Castle with the purpose of turning it into a monastery. Now, many years later, he is about to realize his old dream. A group of Russian Orthodox nuns are on their way, and thus Mr. Vig's life-long dream is about to come true. But nuns have plans and wills of their own, and Mr. Vig must realize that the road to fulfilling his dream is very different than what he had imagined.
Production
Tju Bang Film, Indiakaj 6, DK-2100 København, Denmark, +4535555530, info@tjubangfilm.dk
Sales
Danish Documentary Production, Kvæsthusgade 5c, 1. sal, 1251 København K, Denmark, info@danishdocumentary.com, www.danishdocumentary.com
Awards
2008 – Cinema Eye Honors Award for Outstanding Achievement in an International Feature Film; 2006 – Joris Ivens Award at the Amsterdam International Documentary Film Festival; 2006 – Honorable Mention at CPH:DOX;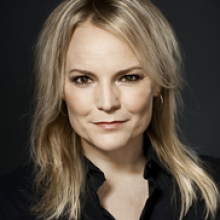 Director
Pernille Rose Grønkjær
Pernille Rose Grønkjær was born in 1973 in Denmark. She graduated from the National Film School of Denmark in 1997 and has won many awards and much acclaim for her work in documentary film and television over the past 15 years. The Monastery: Mr. Vig and the Nun has become an important milestone in the strong international brand that is Danish documentary today. With this film Grønkjær has established herself as a storyteller with a universal language and a cinematic vision.
Selected Filmography
Selected: Those Were the Days (1998), Repeating Grandpa (2001), Love Addict (2011), The House Inside Her (2011)