We are starting a new season of online premieres on DOCU/SPACE with "Euromaidan. Rough cut". Starting from today, the film will be available for free in our online cinema.
Three years ago "Euromaidan. Rough cut" joined works of many Ukrainian filmmakers, who were filming both everyday life and the hottest moments of the Ukrainian protests.
On the eve of the anniversary of the beginning of the Revolution of Dignity, we asked the team of the first film about the Euromaidan to recollect what feelings and emotions it had been important to document and how they had seen the country then and what the country looks like now.
Darya Averchenko
Producer of the project "Euromaidan. Rough cut", PR director of Docudays UA festival
I remember that winter we did not know at all whether Docudays UA would be held or not and what would happen to all of us. We felt so much pain after fighting on the Maidan, burying the Heavenly Hundred. There was a month left until the Festival and it was obvious that we had to talk about what had happened. Then it occurred to me that we could create a common project with the authors who were filming the Revolution of Dignity. I shared my idea with Yulia Serdyukova and Roman Bondarchuk. We got some feedback from interested filmmakers, and we started work. I still consider "Euromaidan. Rough cut" a unique phenomenon. While creating the film, we were working as a real team, helping each other just like people on the Maidan. Then I felt how challenges could help discover the best in people. And I realized that it was possible, against all odds, to create a feature-length film in just a month.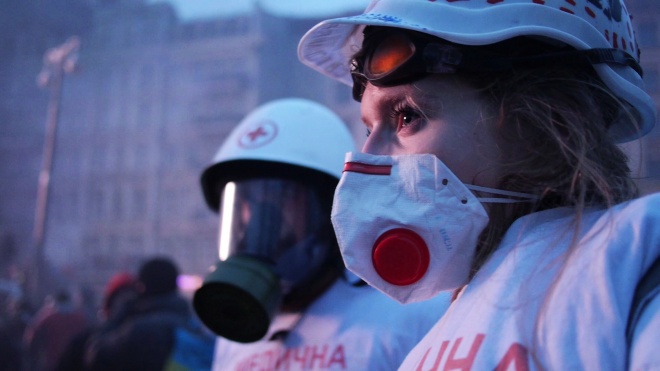 Andriy Lytvynenko
Director of "Kyiv City Council"
Honestly, I was absolutely impressed by the epicness of what I could see inside the Kyiv City Council. It was exciting to see all the people sleeping together on the floor - it was like a dream. We understood that it would not turn out right. But at the same time it was really inspiring that people got together to struggle for something that did not leave me indifferent.
Kateryna Gornostai
Director of "Lennin's Teeth" and "Masha's Peaceful Protest"
Personally, for me, "Euromaidan" is the foremost film in the archive of films about Maidan, perhaps, because instead of analysing the events and retelling the facts, it just wonders what it sees. I like the film because it broadcasts bare emotions, contrasts of feelings - confusion of everyone of us (those ones who were filming) and sometimes incredible calm of those who were caught on camera. I remember the first preview of the film and my impression that everything was disordered, that each part was trying to grab maximum attention. And so do I remember one of the last viewing of the film, when I realized, that however different the pieces of the film were, they spoke about the same. It is a mirror of despair of a person, who has witnessed such enormous historical events, that to embrace them one needs more than a few films and, probably, more than a life time. Has anything changed since then? I can only say exactly about the changes in myself. For the past three years, on the one hand, I have got terribly exhausted, and on the other hand, got frightened that Maidan can happen again. And the only remedy from that is to have in repositories such films as "Euromaidan. Rough cut" and watch them year after year.
Volodymyr Tykhyi
Director of "Fredom or Death"
Then, the Berkut officers, justifying their violence by the necessity to install the Christmas tree, brutally beat the sleeping students, who had come to the Maidan to support the EU-Ukraine Association Agreement. Outraged with the injustice, 1 million Ukrainians took to the streets of Kyiv to remove the bloody Christmas tree.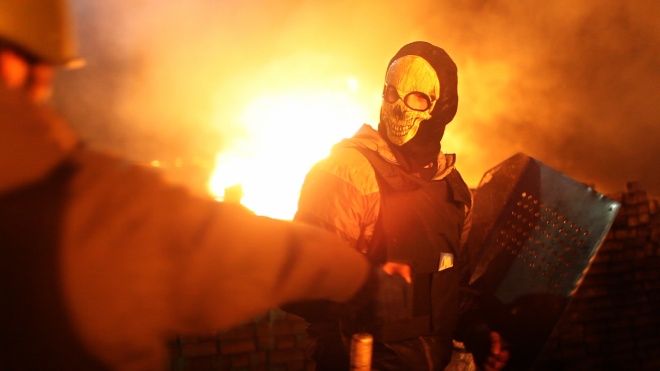 Andrey Kiselyov
Director of "Sense? Damned If I Know"
My part in this project is about the tipping point in the confrontation on the Maidan, that is about the very beginning of the events in Hrushevsky Street. It was very important to me to show the attempt of the opposing parties to build a dialogue. There were several hours when the Afghan veteran was able to approach the barrier and try to talk. But these are my thoughts in December, 2016, and then, on the barricades, I was filming, mostly relying on my intuition.
Oleksandr Techynskyi
One of the directors of the part "All things ablaze"
While filming back then, it was difficult for us to set particular goals. But we were confident that we should not film things we understood, but on the contrary, we should film something that was incomprehensible for us. It was crucial. Perhaps, already after the events in Hrushevsky St., in the middle of January, we understood that we would make a documentary (Oleksandr Techynskyi, Aleksey Solodunov and Dmitry Stoykov are co-authors of the feature-length film All things ablaze - ed.) Then it looked like we were going down the drain. The whole country was going down the drain. And now it seems pretty much the same. But everything is happening at a different pace. I can define it by people's behaviour and by the level of cynicism and hypocrisy that surround us. We have got tangled in lies. And participation in the struggle for the so-called "sacred values" has become a smokescreen looking for perks and gravies in the troubled waters.
Roman Bondarchuk
Director of "Metro" and "Search For A Leader"
Then I did not think about emotions. I searched and tried to understand what was happening. In general, I was extremely interested in the mechanics of the revolution. I was looking for the answer how in that chaos absolutely different people from different parts of the country managed to team up and won. Also, I was interested in who was controlling all those people, and the part about looking for the leader is a shining example of this problem. The country, both then and now, seems to me magnificent, unlike any other countries, full of wonderful people and stories.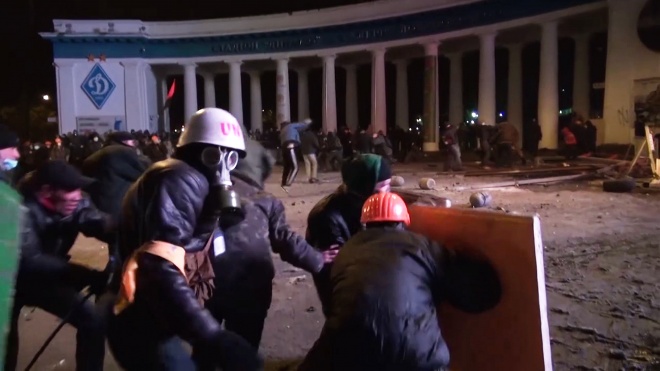 Yulia Gontaruk
Director of "Father's Home"
Then Kyiv was obsessed with one emotion - we wanted freedom, we wanted to live in a proper country, that would not make you feel embarrassed. We were standing on the Maidan so as not to be part of the Post-Soviet space any more. Then I wondered what was happening at that time in Donetsk. Babylon'13 suggested going there, and we decided to go there and shoot a film. When I was already on the train, I started considering going to Yenakiieve, finding Yanukovych's house, where he was born, and talking to his neighbours, what they thought. On the whole, I asked everyone the same questions, what it was like to be Yanukovych's neighbours, what they thought about him as the president, what life was like in the Donbas, and what attitude they had towards the Euromaidan. Nearly everyone was proud of Yanukovych. When one old man finally took us to Yanukovych's house and I could see it in reality, I understood what my film was about. It was Yanukovych's father's house. It was the house that his father had built on his own. It was completely abandoned, nearly ruined. Apparently, noone was looking after it. And I realized it was like an image of Ukraine. It was his attitude towards our roots. What patriotic feelings could we talk about if he treated his native house like that? My mother goes to the village, to her native house, where she was born, every month, as she cannot do otherwise, she is gravitated to the place. And Yanukovych had built himself a palace in Mezhyhirya. And as the old man said, "He never visits this house, always passes by, so there's nothing to show." Then I understood everything. I came back to Kyiv and cut this short film «Батьківська хата». I still see my country the same as I saw it back then. I know that things do not happen fast. I am confident and I believe that we will achieve everything. First we have to take care of changes in ourselves. I do not have any regrets that the Revolution of Dignity took place. As I can see changes in myself and in the society, and it makes me feel happy.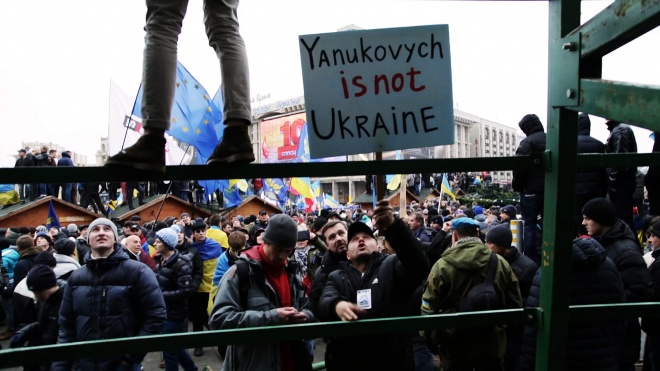 Roman Liubyi
Director of "Cobble By Cobble"
Then, filmmaking was almost a physical need. There was an urge to get hold of things and emotions that we had never experienced before and perhaps will never experience in our lives. We could see the creation of the team, by people who did not know each other. And they were not forced to team up, as we had seen it before. It was just a push. It is revealing that <...> was not planned and was not talked through. This extract was created the same way as the world which was depicted in it. Four cameramen, Kozeko, Kotliar, Ivanko and Iegorov, following their sense of beauty, documented the world, and after that I cut the film, following my sense of beauty. It was teamwork without the slightest hint of organization. Probably, this is also the way we saw our country - as some kind of teamwork, where everyone could find their place. And now… I will speak in a roundabout way. Recently I have read about doing push-ups on your fingers and fists. The article says that doing push-ups on your fingers is a good exercise for preventing problems with your finger joints. But even if your joints already hurt, you can practice this exercise anyway. The pain will become intense, but it will be a different tone of pain - which means recovering, not degeneration. It was the first time I had ever come across such a formulation, and now I think, maybe the tone of our pain has changed, but we have not noticed it?
Yulia Serdyukova
Producer of the project "Euromaidan. Rough cut"
For the past two years and a half, "Euromaidan. Rough cut" has been travelling all over the world - it has been screened in dozens of festivals and numerous events beyond the festivals. In most cases, it was I who had to accompany those screenings and take part in the discussions with viewers. "Euromaidan…" was the first feature-length film about the Ukrainian revolution in 2014. Due to its almanac-like form, it anticipated the cinematic diversity of the future films about the Maidan. Moreover, it became a kind of mirror of perception of the revolution in documentaries by the audience. Some viewers consider it too soft and somewhat romantic, whereas others see a threat to the reputation of the country and defamation of the memory of the heroes. Gradually, the gap between these two opinions is becoming wider, and it is very sad, as it shows the direction of development of our society. However, in the audience there are often observant viewers, who are willing to see the complexity and many-sidedness of the narrative and are ready for a dialogue with their opponents. I have learnt a lot from these conversations. In particular, I understood that a good documentary, like wine, gains more meaning and value as time goes by.
***
For these years, the film has been screened at such festivals as Verzio (Budapest), Inconvenient Films (Vilnius), Cinedoc (Tbilisi), IDFF (Jihlava, Czechia), IDFA (Amsterdam), Watch Docs (Warsaw), International Riga Film Festival (Riga), ArtDocFest (Moscow, Saint Petersburg) and others. At IDFF in Jihlava "Euromaidan. Rough Cut" received a special mention Silver Eye Award. This award is very special because it represents talented debutants in documentary filmmaking. Also, the film got a special prize from the jury of the festival in Glasgow (Document International Human Rights Documentary Film Festival) and the main award of the international online festival FEELFEST.
Viktoria Khomenko