Six teams of Ukrainian documentary filmmakers will pitch their future projects on Docudays UA on 31, March.

Based on the results of the pitching The Guardian goes Ukraine, the judging panel will select three winners. The Guardian's favourite project will be given a grant of £5,000. Two other projects will be funded with £3,000 from the British Council and Docudays UA.

Before the pitching, the teams attended a workshop by Christina Burnett, a prominent British expert. She taught the teams to present their films.

"I was impressed with the quality of the projects and the hard work the teams put in over the two days. The biggest challenge was to clarify the story of each film and how that story could best be told in 15 minutes. This is not unique to filmmakers in Ukraine, or to younger filmmakers as the start of their careers. I have worked with professionals in 20 countries and this is always the challenge - it is easy to know the wider subject (what is the film about?), but much harder to work out clearly what is the story - and how your film will tell that story. Only when you know this can you make an effective pitch," - said Christina Burnett.

Also, we asked the filmmakers to share their impressions and comment on their skills, before and after the workshop.


Svitlana Shymko
Leninopad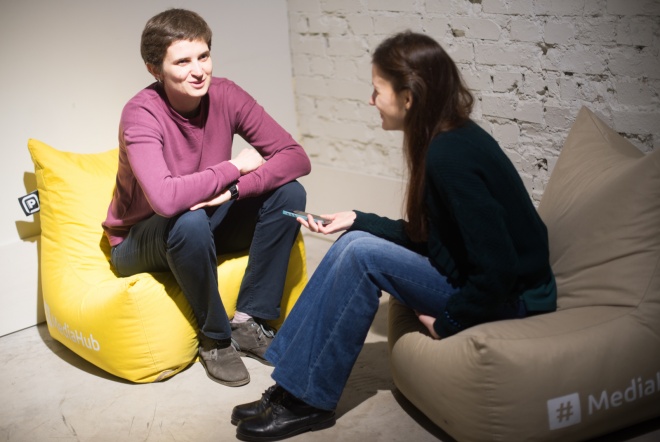 Before: It's crucial for me to get some feedback about my project from other participants. And it's crucial to hear what Christine, as an expert with a lot of experience in pitching preparation, can tell me about things that should be kept in mind.

After: If you don't know how to pitch your project, you won't get funds or, roughly speaking, won't be able to make any progress. Christina gave us some important clues about it. And it's obvious that there are no other options in Ukraine, where you could be taught to pitch or present your projects. And in this workshop we had an opportunity to discuss these problems, which actually require more work.


Victor Demidov and Denys Lukoshkin
Outrageous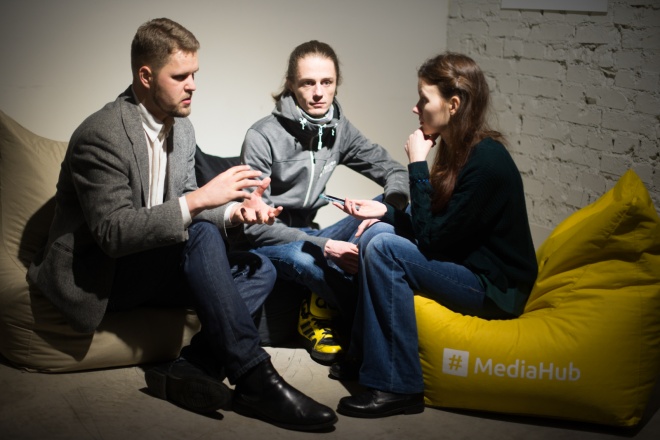 Before: Selling a ready-made product and selling an idea are two completely different things. I guess selling ideas isn't common yet in Ukraine. I'd like to get the hang of this skill at the seminar. Because in my opinion it combines all the things, what you've already done before pitching, your vision of the idea, how it can be realized and how certain you are that your idea fits the available budget (Denys Lukoshkin). It's very interesting to hear why this particular format of The Guardian appeared in the European society. And how we can create our product and make it understandable for the people with a different mentality (Victor Demidov).
After: Christina is joyful and meticulous in a British way. And it's extremely important for young directors and producers to understand the framework of their professions (Denis Lukoshkin). Christina's teaching methods are based on practical things. She guided us to make conclusions about how we should present our future projects (Victor Demidov).

Glib Zhavoronkov and Iryna Kyporenko
The ferry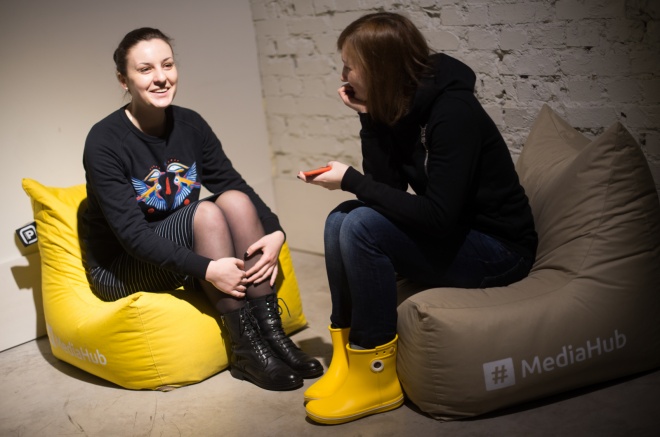 Before: Glib and I have been working as journalists for a long time and I realized that I want to do something else instead of junk news reports. And it's a completely different field of work for me. So it's exciting to understand how we can mix journalism and films. And to compare my personal approach towards this mixing with what professional do in documentary filmmaking (Iryna Kyporenko).

After: I thought there would be a lot of competition, but actually we were rather friends than rivals. And on the last day the idea of our film became comprehensible. This intensive course teaches you to rid your project of alll unnecessary things (Iryna Kyporenko).

Anna Akulevich and Oleg Fialko
Jamala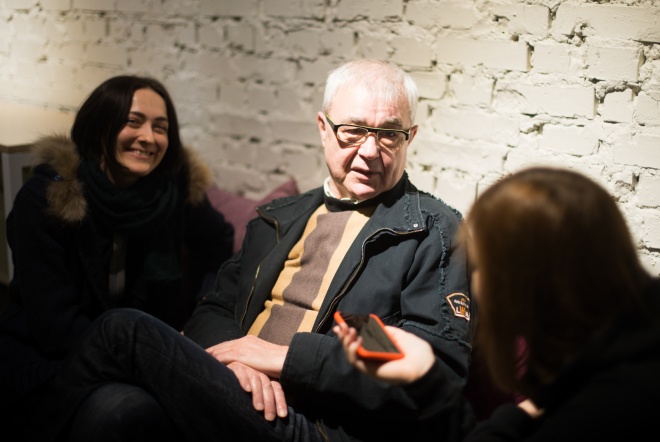 Before: You can read a lot about drama but it's completely different experience when you're taught how to deal with dramatic composition in your particular project (Anna Akulevich). If The Guardian has been present in the market for so long and fits its demands, it must have some tricks of the trade how to remain up-to-date. So I would like to get the hang of these tricks (Oleg Fialko).

After: Practice is the most useful experience in our lives. And there has been so much intensive practice (Anna Akulevich). Christina has profound systematic knowledge. It's theory reinforced by practice (Oleg Fialko).

Alisa Kovalenko and Stephane Siohan
Alina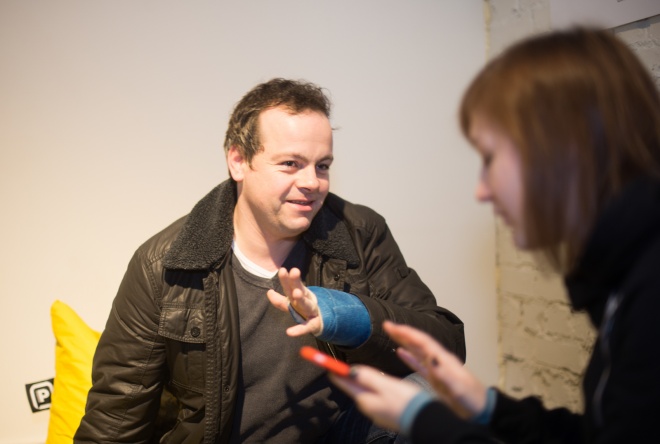 Before: Quite a lot of film directors go to Ukraine with workshops from Western Europe. They are knowledgeable in film industry. So we can benefit a lot from this workshop (Stephane Siohan).

After: We have a lot of 'East European haze' in our heads. And it's very important to structure our ideas. This workshop teaches how to express your thoughts clearly, what is the conflict of the film, how it is developed. That's why it's so important to have a coach, who could clarify some misconceptions (Stephane Siohan).

Semen Mozgovyi and Oleksandr Chepiga
The Winter Garden's Tale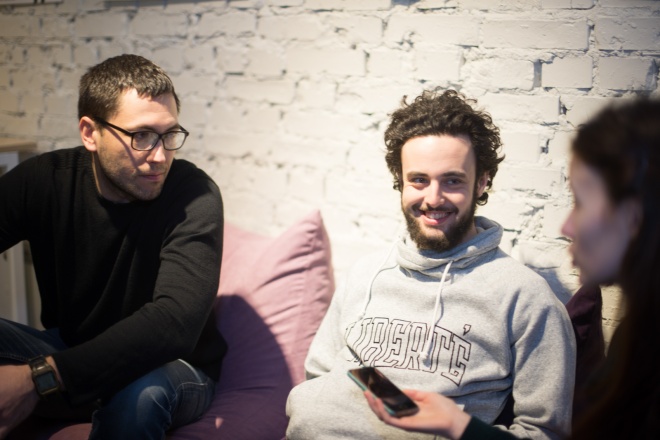 Before: I'd like to know more about platforms which promote documentary films, how to motivate a film crew and how to get funding.

After: After the workshop we're going to rewrite our project presentation. Christina approached the workshop very professionally. She shared with us a general system of successful presentation. And it's something that is missing not only in our projects, but in many other projects (Semen Mozgovyi). There's a range of crucial questions that should be answered by any filmmaker. The most crucial one is what your film is about. If you can answer it, all the rest is a matter of skills (Oleksandr Chepiga).
Photos by Natalka Dyachenko