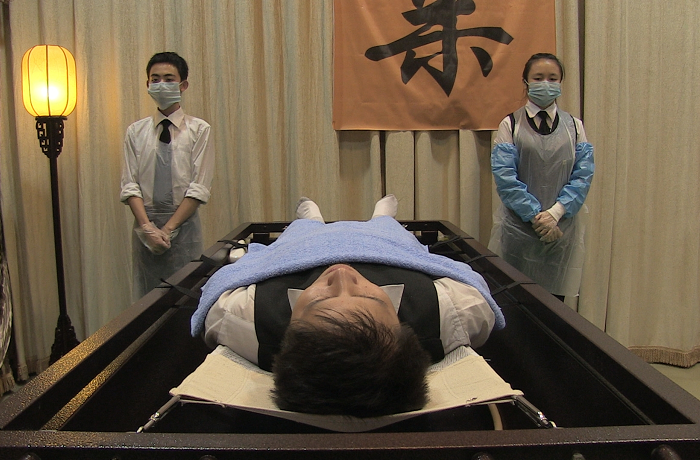 17-year-old Ying Ling is away from home for the first time and training to become a mortician at one of China's largest funeral homes. Despite her fear of ghosts and dead bodies, she learns the spa rituals; cleaning and massaging the corpses while the grieving families look on. Ying Ling finds solace from her macabre role through her playful banter with another of the young morticians. Together, they spend their time off talking about their hopes, fears and plans for the future. As one of many rural-to-urban teenagers working to support her family, Ying Ling must immerse herself in the surreal and grinding world of China's industrialisation of mortality.
CREW:
Director: Carol Salter
Producer: Elhum Shakerifar
Cinematographer: Carol Salter
Editor: Cinzia Baldessari, Hoping Chen, Rodrigo Saquel
Sound: Raoul Brand
Production
Rocksalt Films in association with Postcode films, Carol Salter, +4407961154877,
[email protected]
Sales:
Awards
2017 – Berlin IFF; British Independent Film Awards, Best Documentary
Director
Carol Salter
Carol Salter is an award winning documentary director specialising in closely observed and intimate portraits of ordinary lives that share universal struggles. She is a graduate from the National Film and TV School (NFTS) with a Fine Art background. Her films have screened worldwide: Berlin IFF, IDFA, Edinburgh FF, Sheffield Doc/Fest, and Palm Springs. Her debut feature documentary Almost Heaven premiered at the Berlin International Film Festival 2017 and was nominated for Best Documentary Award.
Selected Filmography
Mayomi (2009), Unearthing the Pen (2009), Almost Heaven (2017)