The director of Golden Dawn Girls
, a film about the far-right Greek political party, speaks about his relationship with the film's protagonists and about their reaction to the film.
How did you come up with the idea for this film?
Everything started in 2013, when I found out that the Golden Dawn had become the fifth largest party in Greece. It was a shocking piece of news, because for me Greece is a place where I usually go for my summer vacation. When I learned that 400,000 people voted for Golden Dawn, I was just stunned. I knew from information on the internet that it is a neo-Nazi party, which uses the 'Sieg Heil'. It was exactly when my friend Christian Falch was working on the documentary Blackhearts about black metal music. One of his film's protagonists was a bass guitarist in a black metal band and a member of parliament from the Golden Dawn party. That's how I decided to make a film about this party, although it was very difficult to gain access to these people, because they are very sceptical of journalists and people with cameras.
Your film includes videos of demonstrations filmed before Golden Dawn's leaders were arrested. Where does this footage come from? When did you start filming?
We started this project right after the party members were arrested. Most of them were detained between September 2013 and January 2014. We started filming at the same time.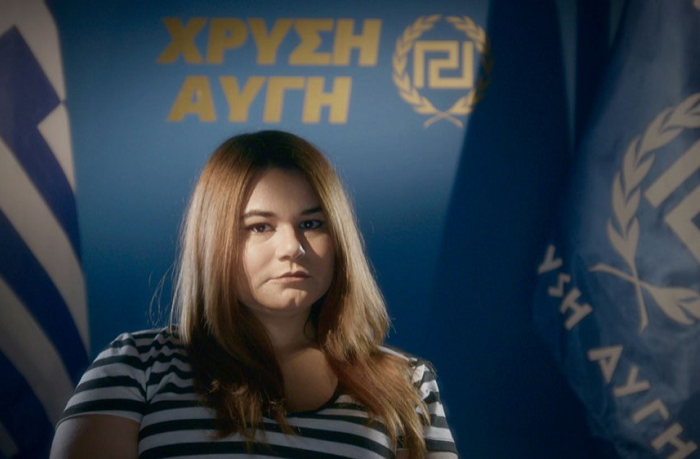 In their party programme, Golden Dawn often refers to economic problems, corruption, the issue of immigration. This party is in opposition to the government and criticises it sharply. In my opinion, it is interesting to watch which topics nationalist parties choose to express their concern. For example, in Ukraine, the problems of separatism, the war, and the Soviet past are manipulated by the right-wing nationalist camp. In your opinion, is the Greek case typical of other far-right movements in Europe?
I think you're right in your definition when you say that Golden Dawn criticises the establishment. But I would add that the main problem is that these people criticise the Other in general, the people who do not fit their picture of the world. In my opinion, it is a typical situation for radical right movements. But, of course, I am not an expert in the issue of the radical right in the wider European context, so I focused more on a specific example, Golden Dawn in Greece.
Your film reminded me of The Other Chelsea by Jakob Preuss. First of all, because you are also interested in controversial events in a foreign country. Second, you don't try to hide your personal stance, in particular your stance as a director, and you don't become an impartial person with a camera. Did Preuss's film have any influence on your work?
Unfortunately, I haven't seen this film. But I was inspired by The Act of Killing by Joshua Oppenheimer. That is an outstanding film. People who tortured others tell the story of how it all happened, from their perspective. I think it's very interesting how each of them are trying to create a story, a narrative, as if they are all good people acting with good intentions, because that is also what the Golden Dawn women say about their men – even though there is direct evidence of their violent actions. For these women, there's always someone else to blame, but not their men. It's very interesting how they speak about themselves.
As I watched your film, I found it very interesting to watch the constant confrontation between you and the protagonists. In your opinion, would it go differently if you were Greek yourself?
Actually, I think it was easier for me because I am from Norway. It helped me to gain access to the people from Golden Dawn, because they are even more sceptical of the Greek media. Probably they decided that it would be easier for them to manipulate me, because I am not fully immersed in the context. Later I understood that they were trying to control everything, even during the shooting, so I also decided to become a protagonist in the film, in a way. It looked like a kind of battle between them and me. I had to demonstrate how they were trying to manipulate me and my film.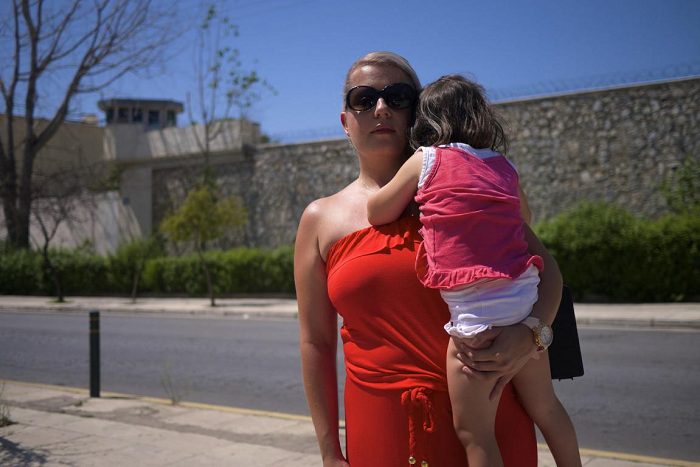 By the way, this also reminded me of Oppenheimer's films. But his characters don't renounce their actions, don't disguise their views. Contrarily, the only thing that the Golden Dawn women do is disguise the violent ideology of their party. It seems to me that it was happening because they are aware of the great power of contemporary media and the risks that come with what they say on camera.
And I think that they just seemed to have learned by heart what to say, how to respond to all critical questions. Because of this, it was also important for me to show how they change in front of the camera. They become like machines, they know for sure what to say. But in the meantime, when they were just talking to me, they became more 'human', you know what I mean? I wanted to capture this moment without the masks, to examine what these people actually are.
Have you screened this film in Greece?
I showed it to the Golden Dawn girls themselves in November last year. Jenny wrote to me on Facebook that she was disappointed, because she hoped that the film would prove that her husband is innocent. We also filmed a lot of footage with her daughter and her husband, but we didn't include it in the final cut. That was another reason for her disappointment. She wanted the film to portray them more like a loving family. Again, it was not my intention, only her wish. A few days after that, Dafni, Panagiotis' mother, asked me for a DVD. I asked her what she thought about the film, and she answered, "Yes, it's nice."
We also planned screenings at the International Documentary Film Festival in Thessaloniki, and we will also have several screenings in Athens.
Interview by
Daryna Nikolenko