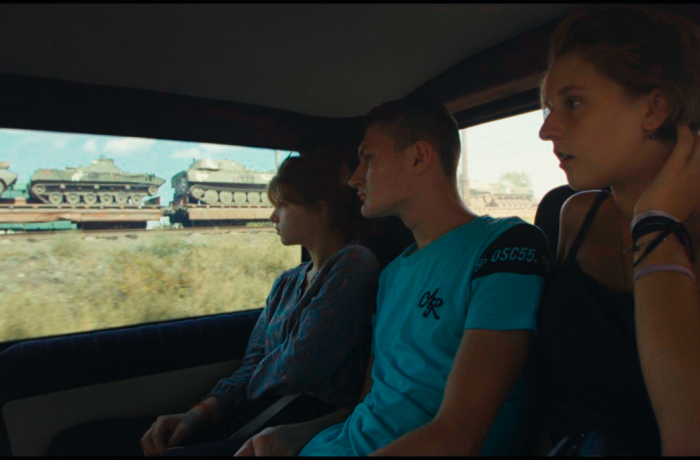 Donbas, 2019. The prospect of a new Russian invasion hangs in the air, while the sound of the gunfire resulting from the old one can still be heard in the distance. In this seemingly bleak wartime setting, five teenagers start to think seriously about their future. Their energy, enthusiasm, and hope allow them to fully live out their last golden hours of childhood despite the circumstances. The members of this imaginative band of dreamers paint, take photographs, fantasise about acting careers, or becoming the next Elon Musk. They rebel, ride the waves of adventure, walk into minefields and sunbathe by a local lake. They dream of escaping not only from the war, but also – like teenagers all over the world – from the boredom of a small town. Then, an opportunity to embark on a long journey all the way to Nepal unexpectedly arises. Will their dream of conquering the world come true?
CREW:
Director: Alisa Kovalenko
Producer: Valery Kalmykov, Yana Kalmykova, Oleksiy Kobelev
Cinematographer: Alisa Kovalenko, Serhiy Stetsenko
Sound: Mariia Nesterenko
Production
Valery Kalmykov, Yana Kalmykova, Oleksiy Kobelev (Trueman Production), in co-production with Katarzyna Kuczyńska, Tomasz Morawski (HAKA Films) and Stephane Siohan (East Roads Films)
Sales:
East Roads Films, Stéphane Siohan, +380 50 832 18 51,
[email protected]
, www.east-roads.com
Awards
Best Director Award at One World International Human Rights Documentary Film Festival (2023), Best Documentary Award at Crossing Europe Filmfestival (2023), Best Documentary Award at Luxembourg City Film Festival (nominee, 2023), Crystal Bear and Berlinale Documentary Award at Berlin International Film Festival (nominee, 2023) Іndustry awards: Thessaloniki Pitching Forum (2020), Odesa International Film Festival (2020), Docudays UA Ukrainian Doc Preview (2021)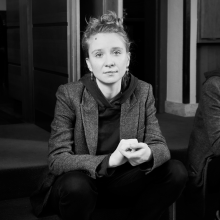 Director
Alisa Kovalenko
Alisa Kovalenko is a Ukrainian award-winning documentary director from Kyiv. She was born in 1987 and grew up in Zaporizhzhia in south-eastern Ukraine, and studied documentary cinema at the Karpenko-Kary National University of Theatre, Cinema and Television in Kyiv and at the Andrzej Wajda School in Warsaw in the Dok Pro programme. Alisa's debut feature-length documentary Alisa in Warland, a personal diary through revolution and war in Ukraine had its world premiere in the First Appearance competition at IDFA 2015 in Amsterdam. Home Games (2018), a social fairy-tale with a sensitive female gaze about the broken dreams of a young professional female football player, appeared at Sheffield Doc/Fest 2018 and was shown again at IDFA Amsterdam, featured
in over 100 festivals and won many awards. In 2021, Home Games was the first Ukrainian creative documentary ever acquired by Netflix.
In 2018, Alisa directed and coordinated Beautiful Game, a 10-part documentary series commissioned by the Prague-based international broadcaster Current Time TV.
That year, she became a member of the European Film Academy (EFA). After the start of the Russian invasion of Ukraine on 24 February 2022, Alisa left the editing room of We Will Not Fade Away and joined a volunteer fighting unit
of the Ukrainian Armed Forces (AFU), directly engaged on the front line in the Kyiv and the Kharkiv region. She fought in the trenches for four months before returning to finish We Will Not Fade Away. The film had its world premiere at Berlinale Generation (2023).
Selected Filmography
We Will Not Fade Away (2023), Home Games (2018), Alisa in Warland (2015), Sister Zo (2014)