We have asked Roman Himey and Yarema Malashchuk to tell us more about their film New Jerusalem that takes part in the DOCU/UKRAINE national competition this year.
What inspired you to make your film?
We grew up in the town of Kolomyya, which tries very hard to preserve its aristocratic status, even though it's quite provincial. We encountered many paradoxes there, which we wanted to represent. Roman once offered to go "hunting" for such paradoxes in a pilgrimage to Zarvanytsia.
The congregation of the Greek Catholic Church mostly like to show their religious culture in their everyday life. The documentary optics often trivializes these things, forcing the filmmaker, and then the audience as well, to draw an unambiguous conclusion about what they have seen. We as authors set out to transfer the self-representations of the protagonists to the screen without any ethical corrections from us. Corrections could only be introduced by the characters themselves at the moment of filming.
How long did it take for you to create the film?
We had the idea to make the film back in 2016, we went on a pilgrimage together with the pilgrims for four days and filmed without any specific concept, whatever we were interested in. We made a teaser out of those sketches, and Valeria Sochyvets, our producer, offered us to write a script and submit it for pitching to the State Film Agency. When we got funding, we started the official production. We traveled to do the shooting twice, for ten days each time, in 2017 and 2018. And the editing took about a year.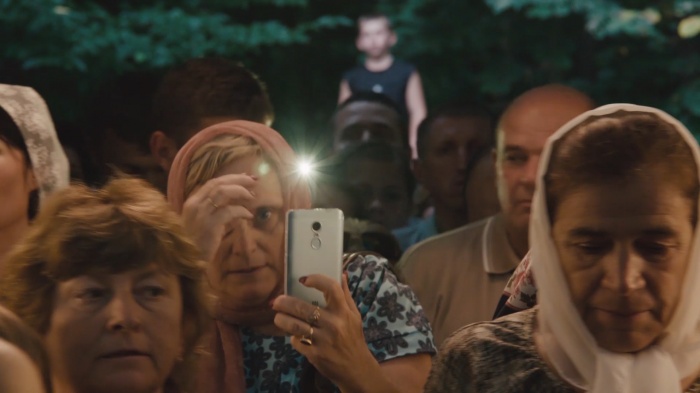 A still from New Jerusalem
How did the work on your film go?
The images and ideas we incorporated in the film never had a clearly articulated form, they awkwardly balanced between the narrative and the aesthetic. To put it all together during editing, we had to invest a lot of time and effort. But the shooting and the script development, on the contrary, came quite easy to us.
What can make the audience love your film?
The non-objectivized perspective on Western Ukraine and its residents.
This is your first feature. What would your advice be for the future filmmakers who are also going to try and follow the same path as you?
To make films, you must be interested in things other than films, too. Your desire to make a film should not be more important than your interest in the topic you're making a film about.
The interview was held by Alex Malyshenko.
Main photo: Serhiy Morhunov for Your Art magazine
We are starting a club for fans of documentary films who love them as much as our Festival team does. To join the club and support Docudays UA please follow the link.